Home | Conditions of sale, and orders


Our stock contains hundreds of original Vanity Fair prints by artists such as Ape (Carlo Pelegrini) and Spy (Leslie Ward), as well as other regularly contributing caricaturists (among them Max Beerbohm, Jean Baptiste Guth, Thomas Nast and James Jacques Tissot). Included as subjects are major political figures, statesmen, artists, performers and sportsmen; as well as lesser-known notables and "Men of the Day".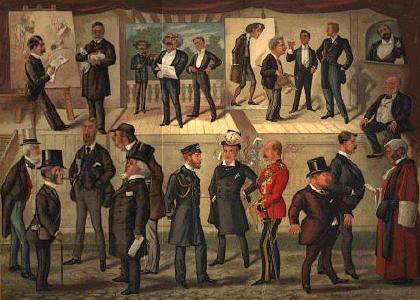 In Vanity Fair
Price and condition
For those unfamiliar with Vanity Fair, we offer a brief history of the magazine and its caricatures.
---
Please note that all our prints are original Vanity Fair caricatures and are fully guaranteed as such. We do not sell reproductions of any kind.

Major figures and more interesting prints are arranged alphabetically on the following pages. The $10 prints, $15 prints and $20 prints, are listed separately. We also have a selection of books about the Vanity Fair caricatures.

Unless otherwise noted, the condition of the prints vary from near-fine to fine; many are matted and shrink-wrapped. (As descriptions are necessarilly brief, a detailed breakdown of the "Notes & Condition" for each print has been provided.) For those listed alphabetically, the biographical sketches by "Jehu Junior" are only present if noted on the list. Please ask for details.

Most of the major prints have been scanned: just click on the individual's name to see the image; or browse through them all by connecting to our print gallery.

These lists will be updated periodically as new prints come in, so if you do not find the one you're looking for, please enquire ... it may not have made it onto the web yet!
---
Select your starting point from the choices below:
Names A-C | Names D-G | Names H-K | Names L-O | Names P-S | Names T-Z
$10 Prints | $15 Prints | $20 Prints
---
---
Wilfrid M. de Freitas
P.O. Box 232, Westmount Station
Westmount, Quebec, Canada H3Z 2T2
Tel: (514) 935-9581
E-mail: Wilfrid@deFreitasBooks.com

Last updated: 9/1/16
Site maintained by Susan Ravdin